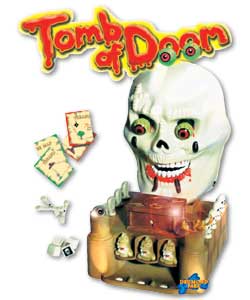 Oh how I wish that I could have played the game in that picture over AEG's TOMB. TOMB sucks. I think it's an example of AT at its worst and I think that a lot of the hype and excitement over it may mean that our standards are lowering back down to pre-1995 levels. Seriously, this looks, feels, and acts like a game that you probably could have bought in 1992. And not in a good way.

The review is up at Gameshark.com.
It may wind up being more controversial than my "I kind of liked AGRICOLA" one.
It almost doesn't make sense for me to not like it because so many good elements are there on paper...but it just sucks, offers very little fun as far as I'm concerned, and it has almost nothing to recomend it over any other game.
The funny thing is that it has that scurrying around for VPs thing and there's kind of a race element so that probably explains the Euro attraction to the game...but if you've got DESCENT, DUNGEONQUEST, DUNGEON, CUTTHROAT CAVERNS, SORCEROR'S CAVE, MERTWIG'S MAZE, WIZARD OF FIRETOP MOUNTAIN, DUNGEONEER, HELDEN IN DER UNTERWELT, or pretty much any good dungeon game ever published- even fucking MUNCHKIN- then there's practically no reason whatsoever to play TOMB unless you like to watch your friends spend countless minutes trying to decide which character they want to take into the dungeon for a turn until they die. It's as boring, repetitive, soulless, and passionless as any Eurogame ever was.
However, in our blog section Ubarose has posted a positive notice that speaks to her experience playing with her kids- it's a totally different perspective and I think it casts the game in an entirely different light.
But for me, I hate the game. And yes, I have it for trade if anyone wants it. It comes with a poster.