There's an article up on Time magazine's website that discusses the trend away from the death penalty in many states in America. While I would never be one to take games so seriously as to say that games and life are the same, I think that some of the discussion around criminal elimination and player elimination in games can follow along like-minded tracks.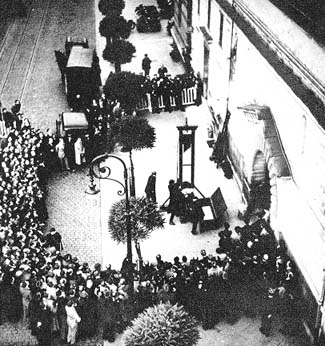 Player Elimination
I'm sure many of the readers of F:AT will immediately jump to the defense of player elimination, as it is often considered one of the staples of Ameritrash. Likewise, the usual suspects that answer to the siren call of the Euro will decry the notion of player elimination as detrimental to the enjoyment of the game. Take this quote from the Time article and see if it sounds familiar-
"The death penalty is not a deterrent, it doesn't reduce crime, it's expensive, and it's unfair."
Obviously player elimination isn't going to match up exactly with the death penalty (there's no crime or expense to it) but I think the gist of what opponents to the death penalty say can resemble what opponents to player elimination say:
It doesn't add value to the process
It is unfair to the person eliminated
For death penalty opponents, the first bullet above encompasses the notions that executions don't act as a crime deterrent, they don't reduce crime and they are expensive. In Euro terms, this equates to player elimination failing to keep opponents in the game (diminishing your play options) as well as immediately making eliminated players into spectators, and with the change, boredom. We don't have the technology to know if executed criminals turn into bored spectators, but depending on your belief system, there's a chance that might also be true.
For proponents of elimination, both real and gaming, the first bullet is a mixture of falsehood and half-truths. Executions do deter crime (the person executed is sure to never commit another crime) and while they may not reduce crime, nor come cheap, neither do encarceration. There may be no more value, but there is certainly not less.
For the AT gamer, player elimination is the *ultimate* deterrent. Play poorly, and you are out.Some of the most intense gaming moments for me have come when I am either on the brink of elimination or pushing someone else to that point. No move becomes more important than the one you make to save yourself from elimination. As to becoming a spectator? If that is such a harsh punishment, then you are most likely playing with the wrong group. You either have opportunities for filler games with your fellow "ghosts" or you entertain yourself.We're all adults, you can find some way to amuse yourself.
The question of fair, for either kind of elimination, is really kind of silly. Life isn't fair. This is why Jim Fixx dies of a heart attack and shallow humans like Paris Hilton live a life of luxury. Attempts to make things fair for anyone have, in both life and games, almost always made thing unfair for everyone.
So where do you sit, F:AT? Is it fair to compare player elimination to the death penalty? Too simplified? Do the feelings you have for one translate over to the other?