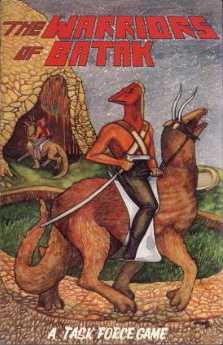 Back during E3, the folks at Gameshark were just too busy to fool with board games. Abner was living it up on some kind of press junket at E3 and the surrogate editor didn't have an opportunity to get my article up. So the "Lost Episode" was born.


It's all about game art but it started out as a dual review of TRIBUNE and GLORY TO ROME. I got caught up on how god awful ugly GLORY TO ROME is and just took it from there.

Now, I think the image of WARRORS OF BATAK is at least charming in a terrible kind of way, as opposed to the really crap art that we see a lot in the hobby. At least they tried to make it look cool...didn't they?

Funny enough, a couple of months on, TRIBUNE is out of the collection and GLORY TO ROME is still in.

So have at it. Next week...a very famous board game goes on trial.