/
/
/
×
Recent Topics paging, uploading images and preview bugs require a patch which has not yet been released.
×
For those who like to push chits.
Valor & Victory is back.
12 Oct 2018 23:08
-
13 Oct 2018 16:22
#283032
by Sagrilarus
For those of you that are a bit intimidated by the three ring binders of rules that are Advanced Squad Leader, I'll mention an attractive alternative -- Valor & Victory. It's a squad-level WW2 hex and counter wargame, a lifelong hobby of its designer Barry Doyle. Doyle is a big fan of keeping things as simple as possible without damaging gameplay, and Valor & Victory shines because of it.
V&V's rule book weighs in at 23 pages if you include the cover and quick ref sheet on the back, and it's a very straightforward read. You can go from a standing start to first scenario in about an hour, and there's plenty of open concepts to work with.
Doyle released the game years ago and then let it idle for a bit. But now it's back in a revised version, coming to you at no charge from its own web site
www.valor-and-victory.com/
. It's a Print & Play and an easy one to make at that. I print to adhesive backed paper and stick to card stock or craft foam. With a little care you can make flippies (paper on both sides of the foam to step-loss with the same piece) which augments the build. Maps print to cheap paper with no backing, so likely $8 in materials has you with a very usable copy.
It's really worth your while to visit the web site (also ultra-simple) and have a quick look at the rule book. This may be the most accessible squad-scale wargame in the hobby, and a lot of fun to play.
Please Log in or Create an account to join the conversation.
13 Oct 2018 23:54
#283048
by jeb
I might be able to retire my site-rip of this game from a few years ago now.
Please Log in or Create an account to join the conversation.
20 Oct 2019 15:35
-
20 Oct 2019 15:36
#302602
by Sagrilarus
More detail -- designer Barry Doyle is planning a limited run for the base game, with 7/8" and 1" chits and hexes. This will be a home-grown print on good equipment, but still in V&V's traditional PnP vein. Barry hates Kickstarter, just won't do it. This is a labor of love for him.

After this numbered run of 50 or 100 copies it goes to Tullison for what follows. Great little squad-level game, and I have a dedicated wargamer joining my group!
Please Log in or Create an account to join the conversation.
06 Jan 2020 23:28
#305886
by Sagrilarus
The new version became available for sale today on BGG's GeekMarket. $65 shipped in the U.S., $80 to the rest of the world. These are numbered copies and the item is still available so presumably some of the first batch is still on the shelf for purchase.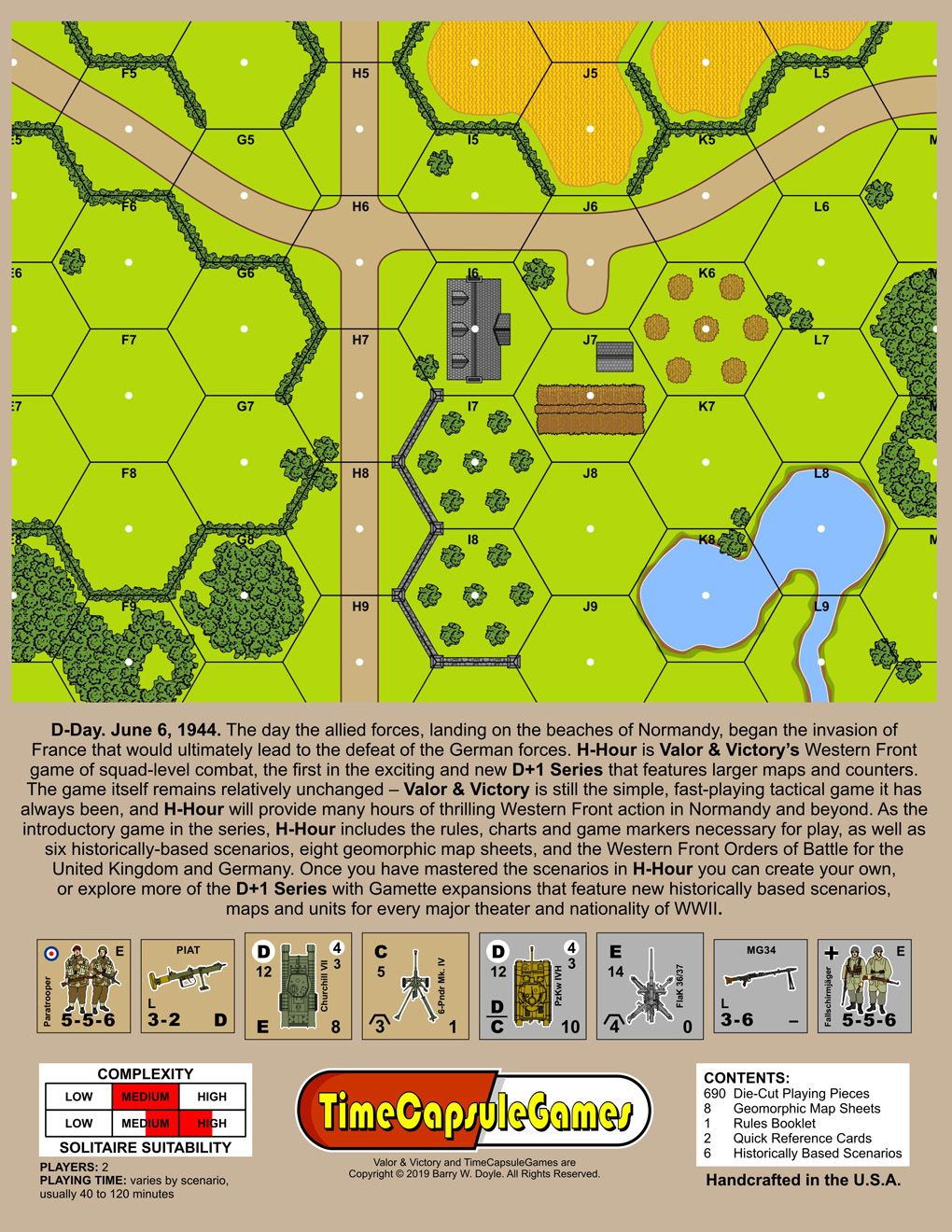 First set is British and Germans in Normandy. Another box is due with Americans. Future "gamettes" will add new armies for continued play in ziplocks at a less expensive price.
Please Log in or Create an account to join the conversation.
/
/
/
Time to create page: 0.230 seconds