Have a holly, jolly Barnestorming #33.
On the Table
First of all, make sure you vote in our F:AT Reader's Choice Awards. Every vote counts. Apart from the one we got for Godzilla: Kaiju World Wars. Adrian?
The Mage Knight review is up at Gameshark. If you're not playing this game, you're denying yourself one of the best gaming experiences of the year.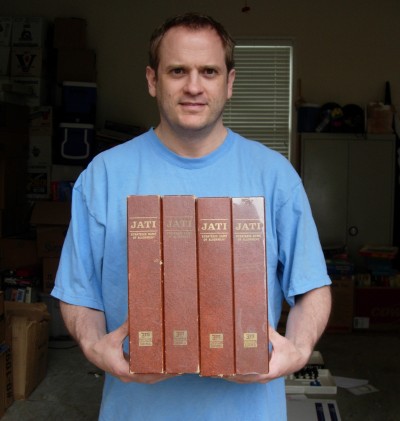 It's a masterful, complex design that finally puts years and years of post-Talisman/Arkham Horror adventure game design behind us and strives for something bigger and deeper.
Eclipse is every bit as stunning, but it represents a very different kind of design approach. It's a reductive, editorial revision of the standard 4x game (and TI3 in particular) but it totally works. Everything that was lost in the micronization process is not missed. It's an incredible piece of design, and it's one of best DoaMs in years. It's also one of the best Eurogames in years.
One of these two games is going to be my Game of the Year. Stay tuned.
I've also got a new Worthpoint article up, an interview with a supercollector. A supercollector who happens to be a friend of mine, Dan Baden. Dan also has a game coming out through Stronghold next year that you should be interested in, it's called Article 27 and it's a pure negotiation game inspired by I'm the Boss…but it's set in the UN Security Council. Should be_great_. The picture is Dan with his FOUR copies of Jati.
On the Consoles
My preview of Gotham City Imposters is live. I'm cautiously optimistic about it, but if a playerbase doesn't form the game is DOA.
I'm sort of in video game limbo right now…occasional abuse from Dark Souls, some Ultimate Marvel vs. Capcom 3 here and there, the new Pinball FX2 tables. But what I'm really digging into is Arkham City, again. I'm going back in and finishing off the side stories and collections. They're WAY more interesting than this kind of material is in lesser games. I'm taking more time, working out the Riddler puzzles instead of just grabbing the easy ones. This game remains freaking amazing.
On the Phone
For some reason I bought Sonic CD. It got rave reviews. But then I played it and remembered…I HATE SONIC!
Oh…MAME is now on IOS. You'd better get it before it's gone. I grabbed it, folks are already working out how to load ROMs beyond the crappy ones it comes with. It is also iCade compatible. Haven't you ever wanted to play Satan's Hollow on the go?
On the Screen
Last year River wasn't really into Christmas specials, but this year we've been watching them all. Yo Gabba Gabba Awesome Christmas seems to be the favorite, and it is in fact pretty awesome. Charlie Brown Christmas put him to sleep, and me too. It's so…gentle. I hate when Linus gets all holy roller and delivers the Christmas story. "Lights please?" Piss off!
We watched Rudolph, which is still the best Christmas special of all time. If you don't like it, what the hell is wrong with you? You can't beat it- gay elf wants to be a dentist. A reindeer named Fireball. Yukon Cornelius. The Abominable Snowman. Burl fucking Ives. The Island of Misfit Toys. The ultimate holiday special.
We also watched Rudolph's Shiny New Year, which is completely screwed up. At one point, Rudolph, a caveman, a knight, and Ben Franklin are riding on a whale named Big Ben with a clock in his tail. All to save Happy New Year from an evil vulture that wants to be immortal. I've often conjectured that Rankin-Bass were heavy into drugs.
Once again this year, I find myself wishing that I had a copy of their Life and Adventures of Santa Claus. I've only seen it like twice, I think it came out around 1985 or 1986. It's awesome. It's the Santa Claus origin story, but with orcs (dispatched with a magic axe), a council of elders including creepy tree people, and other dark fantasy elements. It's based on an L. Frank Baum story, so I wonder if there might be rights issues preventing its circulation.
On Spotify
You've got to listen to the Pogues at Christmastime. Not only because of "Fairytale of New York", which is the greatest Christmas song ever
recorded, but because something about it just seems right for the season. I've been digging their pair of tracks with the Dubliners, "The Irish Rover" and "Whiskey in the Jar" lately. "The Irish Rover" in particular is just awesome. You've got the more traditional, austere Irish music of the Dubliners and then here comes Shane…all venom, spit, and sloppiness. It sounds fucking amazing.
Also going through Tones on Tail's "Everything" comp, which is pretty much everything including a dopey interview with Daniel Ash where he says the same two things over and over again. I actually had not listened to this stuff in a long time, and revisiting it reveals some interesting things. One is that Tones on Tail is probably more playful and even goofy than Bauhaus or Love and Rockets. Another is that it's some really damn good new wavey/gothy/postpunky pop but it's also awfully weird. Some great, great songs on there though- "Christian Says", "There's Only One", "War", and of course "Go" which is one of the all-time great club songs. River's been singing it to- "Yeah yeah yeah yeah yeah yeah yeah yeah yeah! Go!"
It's really odd how close Glen Campling's bass playing sounds almost just like David J's. You could have told me it was David J and I've have believed you.
He's next, I've only listened to a couple of his solo records but I LOVE the song "Crocodile Tears and the Velvet Cosh" as well as the V for Vendetta songs and the pretty great cover of Clock DVA's "Four Hours", so I'm looking forward to it.
Anyway, if your F:AT handle is not Space Ghost, Black Barney, or QPCloudy, have a great Christmas. You three, you should all know the reasons why I'm not extending the mistletoe to you.